Hygger HG001 Fully Submersible Aquarium Heater
External digital display controller
Double tubes heating element
Running-dry shut off protection
Overheating protection
Work in both freshwater and saltwater tanks
$65.99 – $74.99

Description
SPECIFICATIONAN & INSTRUCTIONS
FAQs
Reviews (0)
Description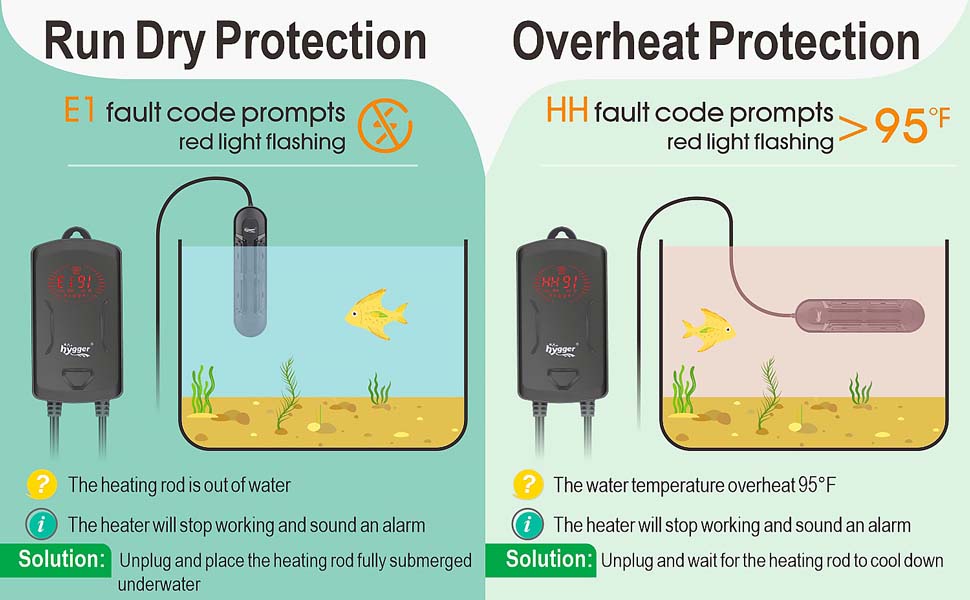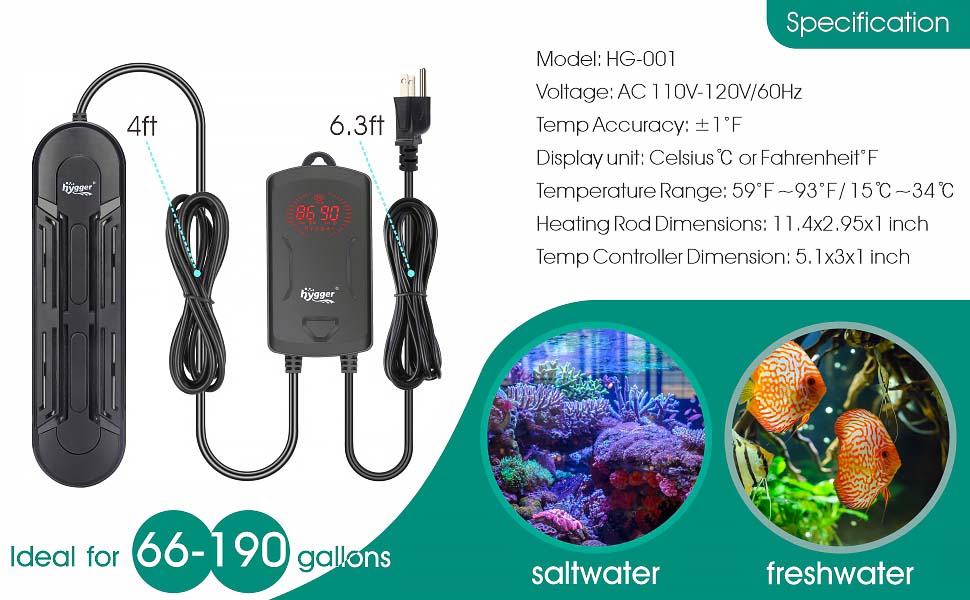 Product Parameters
Model
Power
Voltage
Cord length
Fish tank size
Temp Accuracy
Control Range
59°F~93°F
Temp Controller Dimension
HG001-500W
500W
110V/60Hz
6.3ft+4ft
66-120Gal
±1°F
59°F~93°F
11.4x2.95x1 inch
5.1x3x1 inch
HG001-800W
800W
Packing List
Aquarium heater x1
Suction cup x2
User manual x1
Question:
I have a 300 gallon Rubbermaid stock tank with a sand and lava rock substrate. Can this heater be laid on its side, on a granite tile?
Answer:
Yes. I don't see a problem with that. I have mine on it's side in my sump tank. Working just fine, no issues.
By Amazon Customer on April 5, 2022
Question:
I assume the controller lights up when plugged in because mine I just got doesn't have a screen on the temp controller. Just smooth plastic!?
Answer:
Control panel is digital and is not visible until you turn it on.
By robert c on March 30, 2022
Question:
How long is the guarantee.
Answer:
One Year Warranty.
By usmagob SELLER on March 22, 2022