Hygger HG916 Mini Oval Aquarium Heater
Compact small heater
External controller
LED digital display
Run dry protection
Auto shut off as out of water
Overheating protection
$18.99 – $22.99

Description
SPECIFICATIONAN & INSTRUCTIONS
FAQs
Reviews (0)
Description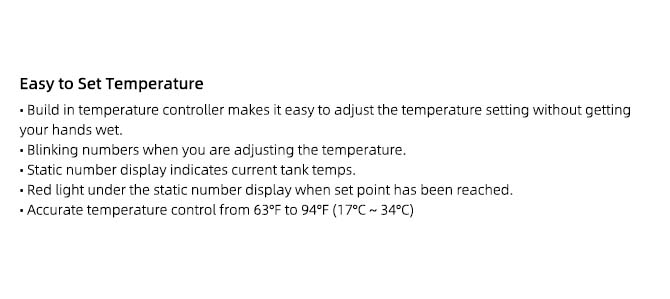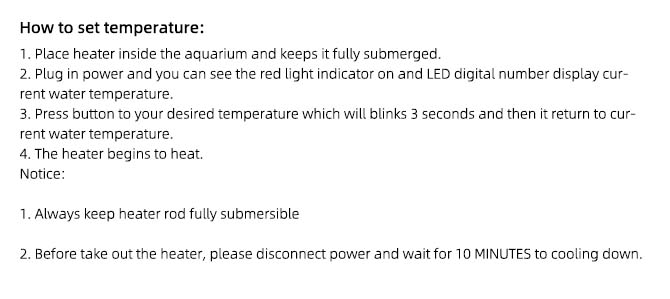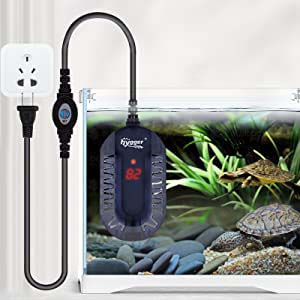 Warnings and Warm Tips

1. Always keep the heater rod fully submersible to avoid heater damage and accidental burns.

2. Before taking out the heater, please disconnect power and wait for 10 minutes or so to let it cool down.

3. Perfect water temperature for betta is 75-81°F.

4. Perfect water temperature for turtle is 77-86°F.
Product Parameters
Model
Power
Voltage/Frequency
Cord Length
Applicable Tank Size
Temp Accuracy
Temp Control Range
HG-916
50W
American: 110-120 V / 60 Hz
Europe: 220-240 V / 50 Hz
4.9 ft
1-6.5 Gallons
±1°F
63°F - 94°F
100W
6.5-13 Gallons
Packing List
Oval Heater with External Controller x1
User Manual x1
Question:
Is it ok for a 2.5 gallon betta tank, or will it heat up to fast and stress the Betta?
Answer:
Hi, the 50W heater is suitable for 2.5 gallon tank, for small tank, we suggest to set the temp 1F or 2F less than your designed temp, because the samll tank water will go 1F more up after it stop heating.
By petfocused SELLER on October 4, 2021
Question:
My heater is making a noise when heating the tank. should i take it out and replace it?
Answer:
Hi, plesae unplug it wait for a while, then reset it again. If it still makes noise, please contact the seller directly to ask for a replacement.
By petfocused SELLER on October 29, 2021
Question:
How long does it take to warm the water to the set temperature?
Answer:
There is not really a hard fast rule for this.
By usmagob SELLER · June 6, 2021
Question:
What is E2 reading and how do I fix it?
Answer:
Hi, the E2 means the temperature detector is damaged, please stop use and contact seller at
[email protected]
. We will help you.
By petfocused Seller · February 11, 2021
Question:
Can I use this heater in a plastic betta tank?
Answer:
Hi, this heater can be used in glass, plastic, acrylic fish tank. It's has auto shut off function when out of water or over heater, very safe to use.
petfocused Seller · September 12, 2021