Hygger Hexagon Aquarium Air Pump Accessories
Double-side suction cups
Energy-saving
Ultra-Quiet
Super small body and light weight
Unique private patent design
Easy to install and use
$15.99

Description
SPECIFICATIONAN & INSTRUCTIONS
FAQs
Reviews (0)
Description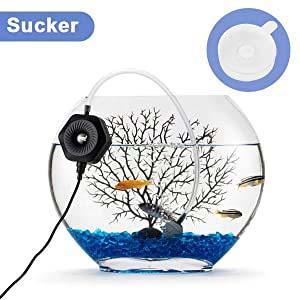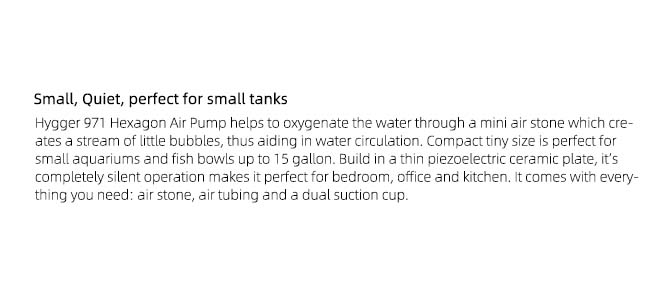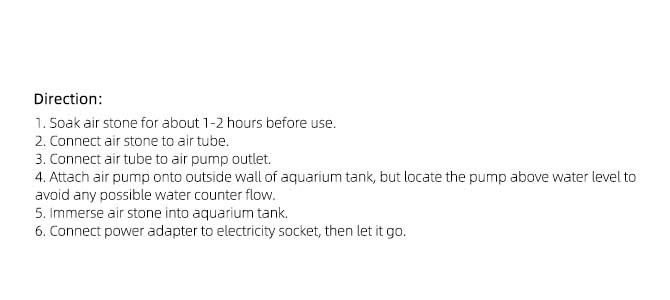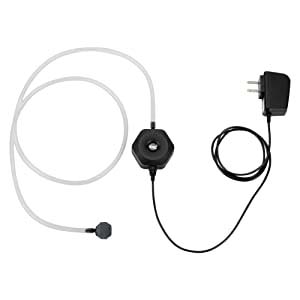 Product Parameters
Model
Power
Max Air Flow
Pressure
Noise Level
Voltage/Frequency
Power Cable
Air Tube
Maximum Depth of Air Stone Water
HG-971
1.5 W
420 ML/Min
12 KPa
≤ 33 dB (A)
American: AC 110 V / 60 Hz
England: AC 220 V / 50 Hz
3.6 ft Long
Diameter: 3/16 Inch ;
Length: 3.6 Feet
18 Inches
Packing List
Mini Air Pump with Adapter x1
Dual Suction Cup x1
Air Tube (3.6 ft Long) x1
Mini Air Stone x1
User Manual x1
Question:
Can I use this with an air bubbler decoration that already comes with an air stone attached to it?
Answer:
Yes.
By Katie A Top Contributor on March 25, 2022
Question:
Does the tube have an air filter?
Answer:
It has the air pump, the plastic tubing and an air stone. The air stone is what diffuses the bubbles. I guess you could say it is an "air filter". The water filter Is a separate thing , and that is for cleaning the water.
By Lorie on March 26, 2022