Hygger Mini Air Pump
Compact design
Light-weight
Easy to install and use
Energy-saving
Build in a thin piezoelectric ceramic plate to reduce noise and keep ultra-quiet
$15.99

Description
SPECIFICATIONAN & INSTRUCTIONS
FAQs
Reviews (0)
Description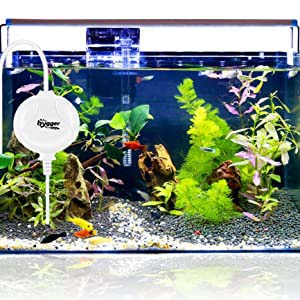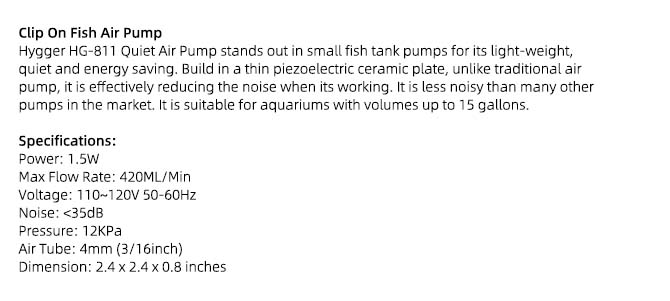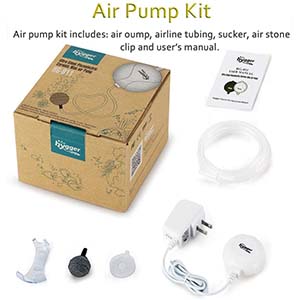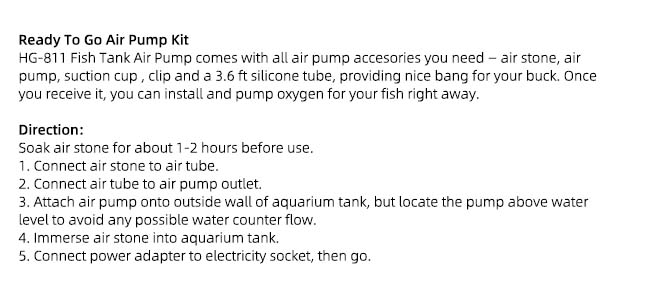 Directions for Use

Step 1: Soak air stone for about 1-2 hours before use.

Step 2: Connect air stone to air tube.

Step 3: Connect air tube to air pump outlet.

Step 4: Attach air pump onto the outside wall of aquarium tank. Please locate the pump above water level to avoid any possible water counter flow.

Step 5: Immerse air stone into aquarium tank.

Step 6: Connect power adapter to electricity socket. And you are good to go.
Product Parameters
| | | | | | | | |
| --- | --- | --- | --- | --- | --- | --- | --- |
| Model | Power | Max Flow Rate | Voltage | Noise | Pressure | Air Tube | Dimension |
| HG-811 | 1.5 W | 420 ML/Min | 110-120 V, 50-60Hz | < 35 dB | 12 KPa | 4 mm (3/16 inch) | 2.4 x 2.4 x 0.8 (inch) |
Packing List
Air Pump with Power Adapter x1
Air Stone x1
Double-sided Suction Cup x1
Silicone Air Tube (3.6 Feet Long) x1
Clip x1
User manual x1
Question:
What the size of aquarium tank for this mini fish air pump?
Answer:
We recommend use this mini pump for 1-10 gallon tank. Maximum up to 15 gallon. Thanks.
By usmagob SELLER on October 27, 2021
Question:
Does it have to be clipped to tank or can it sit out on flat surface next to tank? Just confused because everything talks about attaching it to tank.
Answer:
Mine doesn't have a clip. It's just been lying flat and it works just fine. It doesn't have to be attached to the tank.
By slamnation SELLER on December 27, 2021
Question:
What's the difference between this and a filter?
Answer:
The only thing this does is pump air! A filter moves water through filtering media such as charcoal, filter sponges, filter floss, and bio balls, activated carbon, etc. Most filters have their own motors, and a few filters need an air pump. But this by itself is not a filter.
By Elizabeth on August 30, 2021
Question:
What is the size of the air stone in this kit?
Answer:
Measures dia 2.2cm ball shape air stone. Thanks.
By usmagob SELLER on January 19, 2021
Question:
Does the pump make an annoying buzzing noice? Is it really quiet enough for my nano bedroom aquarium?
Answer:
Mine is not silent. I hear a constant annoying hum from mine in the bedroom 8 feet away from my bed. I can't seem to make it silent.
By JS on June 23, 2021