Hygger 908 Double Sponge Aquarium Filter
Keep fish tank water sparkling clean super quiet and more delicate bubbles
More efficient and durable
Mechanical dissolved oxygen and cultivate beneficial bacteria
Easy to set up and clean
Suitable for shrimps, bettas, tropical fish, planted tanks or others
Can be run by most air pumps (larger than 5W)
$17.99 – $19.99

Description
SPECIFICATIONAN & INSTRUCTIONS
FAQs
Reviews (0)
Description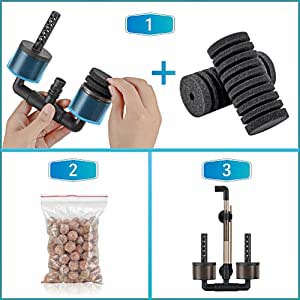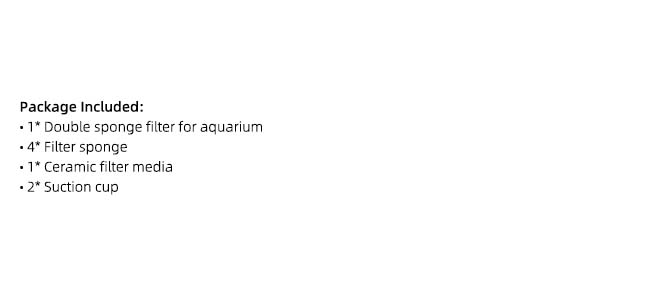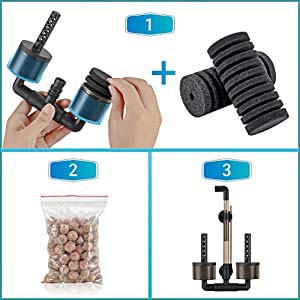 Warm Tips to Use the Aquarium Filter

1. When using for the first time, squeeze the sponge filter into the water tank for 5 minutes, which makes it easy to filter.

2. Use the water in the aquarium instead of tap water when washing the sponge.

3. It is recommended to replace the sponge and bio ceramic balls every 6-8 months.

4. This aquarium filter needs to be equipped with an separate air pump.
Product Parameters
Model
Size
Sponge Dimension
Inner Diameter of Sponge
Applicable Tank Size
Applicable Air Pump
Retractable Outlet Pipe Length
Capacity of Ceramic Pearls Container
HG-908
S
1.97"D x 4.33"H
0.51"
< 40 Gallons
2.5 W
6.1" - 9.25"
100 ml
M
2.36"D x 5.12''H
0.62"
< 55 Gallons
4 W
200 ml
Packing List
Retractable Outlet Pipe with Air Tube Connection x1
Double Sponge Filter with Media Container x1
A Bag of Ceramic Media Balls x1
Suction Cup x2
Sponge Replacement (In Filter Media Container) x2
User Manual x1
Question:
Can it be used with a 1.5 watt pump in a 10 gallon tank?
Answer:
Hello, it also depends on water depth, air pressure, and air volume. So 1.5 watt pump maybe can used. However, I still recommend using a large wattage air pump, it is mas better.
By Jnkany SELLER on February 19, 2021
Question:
Instead of using ceramic can i put activated carbon in these?
Answer:
Hello, this filter cartridge can replace other media.
By Jnkany SELLER on August 17, 2021
Question:
Would a 15 gallon pump work ok with this?
Answer:
Hello, our sponge filter can be used with your air pump, thank you.
By Jnkany SELLER on September 7, 2021
Question:
What voltage is this ?
Answer:
No voltage at all. It is to be connected to an air pump outside the tank. There are various sizes of air pumps that would work. Most of these are relative low wattage unless you get a central pump to run multiple filters.
By Mary Anne Smith on March 3, 2021