Hygger 5 in 1 Automatic Fish Tank Cleaning Tool Set
5-in-1 Multi-function cleaning tool set
Clean, change water, filter all in one
Easy to assemble and use
Suitable for small and large aquariums
$36.99
Out of stock

Description
SPECIFICATIONAN & INSTRUCTIONS
FAQs
Reviews (0)
Description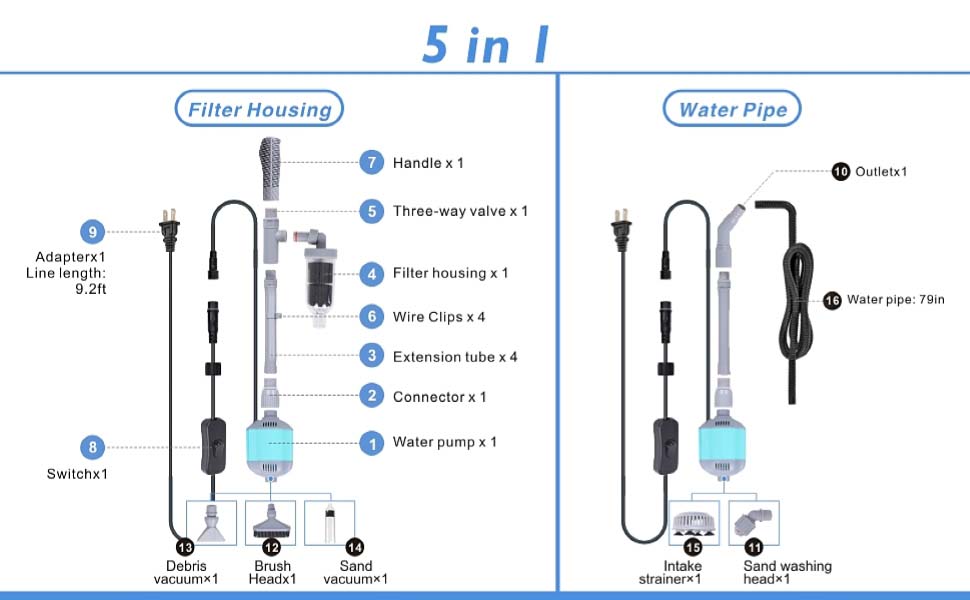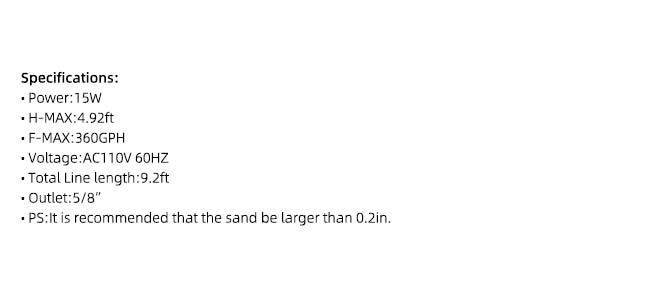 Warnings and Warm Tips

1. The power cord of the pump should be free from the water and be kept dry when in use. If there is leakage or damage to the power supply, please cut off the power as soon as possible.

2. To avoid the possibility of the pump plug getting wet, position the aquarium stand and the tank to one side of a wall mounted receptacle to prevent water from dripping onto the receptacle or plug.

3. Always unplug the pump from the outlet when not in use, before putting on or taking off parts, and before maintenance or placing hands in the water. Never yank the cord to pull plug from outlet. Grasp the plug and pull to disconnect.

4. Do not install or store the pump in which it will be exposed to bad weather or temperatures below freezing. This pump is suitable in water temperatures between 40〜95°F.

5. Do not submerse it to more than 3ft of water depth.

6. Do not run dry or out of water. Keep the water pump completely submerged.

7. Only use it in freshwater or saltwater, do not use the pump in other liquids.
Product Parameters
| | | | | | | |
| --- | --- | --- | --- | --- | --- | --- |
| Model | Power | H-MAX | F.MAX | Voltage | Voltage | Outlet |
| HG-955 AC | 15W | 1.5m(4.92ft) | 360 GPH | 2.8m(9.2ft) | 2.8m(9.2ft) | 8.7 inch |
Packing List
Rod handle(4pc extension tubes+1 pc handle+ 1 pc water pump) x1
Sand Vacuum x1
Debris Vacuum x1
Brush Head x1
Sand Washing Head x1
Water Pipe x1
Filter Housing x1
AC Socket x1
Question:
The hose it came with wasn't long enough. Can anyone tell me the correct diameter?
Answer:
The inner diameter is 14mm/0.55in and the outer diameter is 18mm/0.7in.
By Jnkany SELLER  on August 10, 2021
Question:
Will this work on a 5 gal.tank?
Answer:
Yes, it can.
By Jnkany SELLER on August 10, 2021
Question:
The water that is sucked up to clean goes back into the tank?
Answer:
We have 2 kinds of water outlets, which can be returned to the fish tank or discharged out of the fish tank.
By Jnkany SELLER  on April 8, 2022
Question:
How good would this be for a 45 gal tank with fine sand?
Answer:
Use the right attachment and take your time-- will have to empty the filtration device often as it doesn't allow very mu h build up but inthibk it qoukd do fine.
By joshua on July 6, 2021