Hygger Submersible Fountain Aquarium Water Pump
Ultra-quiet operation
Provides efficient and instant water flow
Oil-free magnetic driven motor
Easy to use
Suitable for a variety of applications in ponds, fish tanks, fountains, waterfalls
$19.99 – $38.99

Description
SPECIFICATIONAN & INSTRUCTIONS
FAQs
Reviews (0)
Description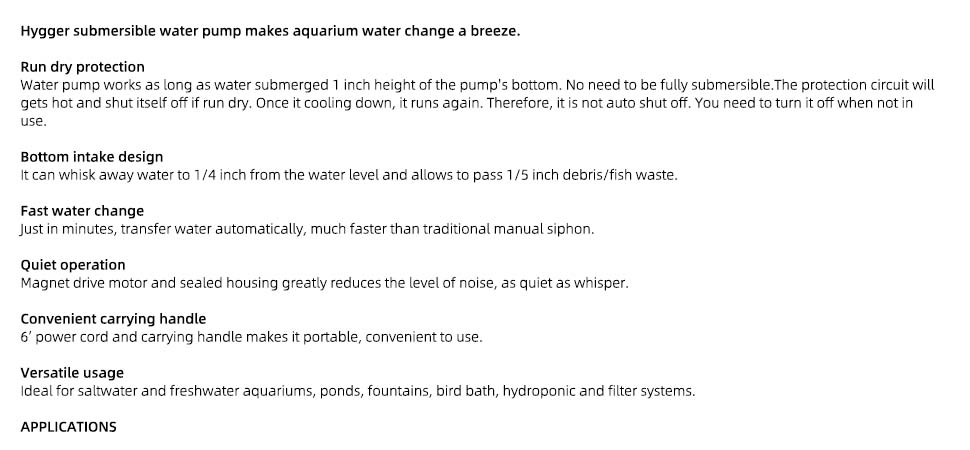 Warnings and Warm Tips
1. As this aquarium pump is submersible, please put it into water fully before powering on.
2. You can use it to pump water as long as the water level surpasses 1 inch in height of the pump.
NOTE: The Max Lift is the maximum height the water can go up after connecting the water pipe to the nozzle. Max head data is based on the ground level. If it is used at a sump tank, it won't achieve listed head.
3. For a longer service life, please use a socket with stable voltage and keep the motor running within rated power.
4. Due to professional test before shipment, it is normal if the pump you receives contains a little water. Please don't worry, it is a new pump.
 Product Parameters
Model No.
HG919-800
HG919-1500
HG919-2500
HG919-4000
Power
18 W
40 W
60 W
90 W
Output Voltage
110 V / 60 Hz
Max Flow Rate
215 GPH
400 GPH
660 GPH
1060 GPH
Head Max
3.6 ft /1.1 m
Barb fittings
1/2" & 5/8"
3/4" & 7/8" & 1"
3/4" & 7/8" & 1"
3/4" & 7/8" & 1"
Pump Dimensions
3.8"L x 3.6"W x 4.4"H
 Packing List
Bottom Intake Water Pump x1
Nozzles x2
User Manual x1
 Usre Manual
Question:My pump is fully submersed, but turns off every once in a while for a minute, then resumes. Any idea what might cause this?
Answer:  It is run dry protection. It happens either water temperature or motor reach over 149 degree. You can unplug the pump and wait for 30 minutes to cool down, then try it again. Thanks.
By usmagob SELLER on January 2, 2021
Question:Does anyone know if the large sized pump would deliver enough pressure to operate a garden sprinkler? (I'm trying to pump water the garden). Thanks
Answer:  Yes it will its perfect.
By eddie on April 11, 2021
Question:Can you adjust the flow rate?
Answer:  No, you can't. However, it comes with different sized adapter you can use for different flow effect. Thanks.
By usmagob SELLER on August 23, 2021
Question:Hot water capability. Up to 90-95 f?
Answer:  Yes it will pump warm water. Note this pump is not designed for continuous operation, more like draining tanks and tubs.
By Customer on January 26, 2021