Hygger DC Aquarium Water Pump
Auto-shutoff while no water or under the waterline
Protect small fish from being sucked in and prevent the dirty things in water form clogging the pump
Adjustable flow speed
Water pump run well on the ground or diving
Ultra-quiet & powerful
Fit for a variety of applications in ponds, fish tanks, fountains, waterfalls, hydroponic and irrigation systems
$79.99 – $129.99

Description
SPECIFICATIONAN & INSTRUCTIONS
FAQs
Reviews (0)
Description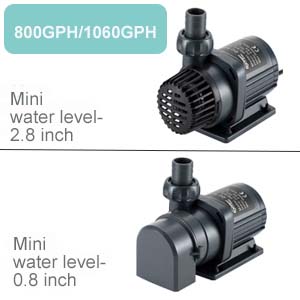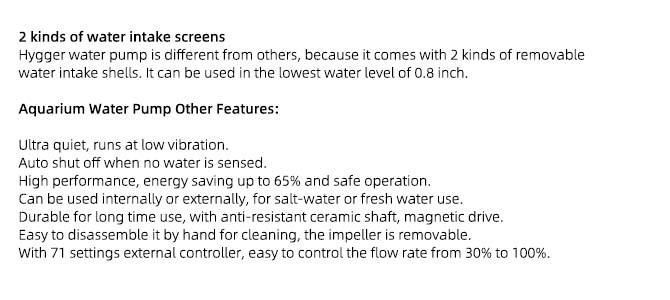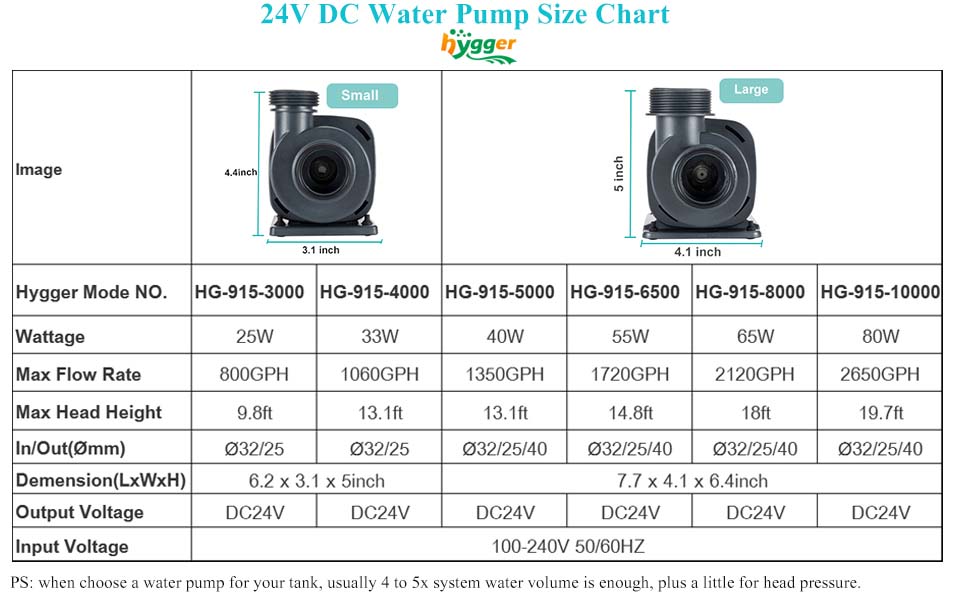 Warm Tips for Using This DC Water Pump

1. The external controller must be placed indoors since it's not waterproof.

2. The controller has memory function for the flow rate, if the power goes out the controller will go back to the last setting.

3. If you find the pump is failed to pump water at the beginning, please try to unplug and re-plug the power to get rid of the air inside the pump. Repeat the operation for several times until the pump works normally.

4. If you find the "Up", "Down", or "Pause" button on the controller failed to work, you may have locked the controller accidentally. Try to long press the "Pause" button for 3 seconds to unlock the controller.

5. If you need to lock the controller, please long press the "Pause" button for 3 seconds again.
Product Parameters
Model No
HG-915-3000
HG-915-4000
HG-915-5000
HG-915-6500
HG-915-8000
HG-915-10000
Power (W)
25
33
40
55
65
80
Output Voltage
DC 24V
Input Voltage
100-240V
Max Flow Rate (GPH)
800
1060
1350
1720
2120
2650
Head Max (Feet)
9.8
13.1
13.1
14.8
18
19.7
Dimension
6.2x3.1x5(inch)
7.7x4.1x6.4(inch)
Packing List
ser Manual x1
Power Adapter x1
Controller x1
DC Water Pump x1
O-ring x2
Pump Screen Inlet x2
Question:
Has anyone run this pump directly off a 24V PV panel? obviosly only want it to circulate during the day?
Answer:
To clarify, 24V does indeed turn the impeller. But it's 110/120vac into the controller and some kind of PWM/sine wave 24V out to the pump, which is a brushless DC. You could not run this from 24V solar panel directly, as it isn't just straight DC, it requires commutation from a motor controller.
By David H. on May 4, 2021
Question:
Can I use a lower flow rate to reduce the power consumption so I get to use fewer watts than the pump is rated for?
Answer:
Yes, the controller diplay lets you know how may watts or amps are being used for each setting.
By adam wootton on October 20, 2021
Question:
What size would be best for a 40 gallon tank with a 20 gallon sump?
Answer:
Hi, I suggest the 25W 800 GPH water pump for your this tank.
By petfocused SELLER on June 27, 2021