Hygger Automatic Outdoor Pond Fish Feeder
Easy to program
Automatic fish food feeding
5.5 L large capacity food bin
LCD display controller with clock
Large programmable auto pond feeder
$115.99
Out of stock

Description
SPECIFICATIONAN & INSTRUCTIONS
FAQs
Reviews (0)
Description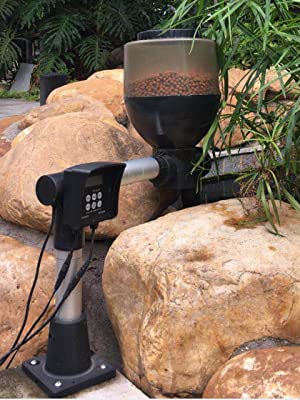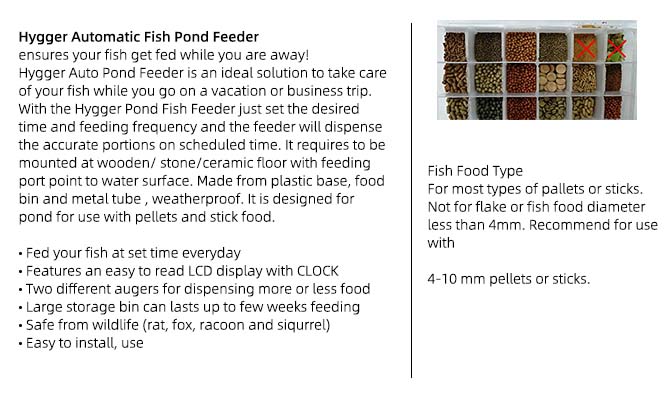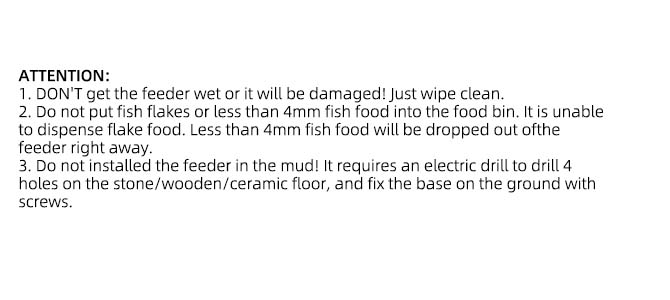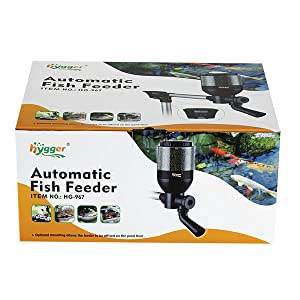 Warnings and Warm Tips
1. Do not install the feeder in soft mud. It needs to be mounted at water's edge or suspended over the water which is safe from wildlife such as rat, fox, racoon, and squirrel.
2. The feeder controller would be damaged after getting wet, so don't wash it directly in water, just wipe to clean it up. Also, protect it with a shelter from rain and snow in outdoor use.
3. Do not put fish flakes or fish food less than 4 mm such as fish powder into the food container. It is unable to dispense flake food. Less than 4 mm fish food will be dropped out of the feeder right away.
4. It is better to clean the container once empty.
5. Do not put your hand into the feed cylinder when it's running.
6. It is weather-proof. However, do not drop or immerse the feeder in water.
Product Parameters
| | | | | | |
| --- | --- | --- | --- | --- | --- |
| Model | Material | Food Bin Dimension | Food Bin Capcity | Power Cord Length | Compatible Food Type |
| HG-967 | Plastic, Metal | 10.6"H x7"D | 5 Pounds (5.5 L) | 16 Feet | 4-10 mm Pellets or Sticks Food |
Packing List
Food Bin x1
Feeding Port x1
Controller with 2-Pin Plug x1
Base x1
Slider x2
Intubation Tube x1
Screw x4
User Manual x4
Question:
How do you change the number of meals from the three in the factory preset? I want to feed only once a day.
Answer:
Just set once, skip the other, don't put a time and it will only feed once.
By Shoot smart on September 10, 2021
Question:
Can I use if on a Fish tank ?
Answer:
No, it is waaaaay too big for a tank, pond use primarily, I have a 4500 gal pond and it is large for my pond!
By Ovate on August 26, 2021
Question:
Is the new version now waterproof ? Strangely it says it's made for outdoor use and the finer print below says do not get it wet.
Answer:
Yes, it is waterproof now. Although we suggest to make a shelter for the controller incase any damage.
By usmagob SELLER on April 27, 2022
Question:
My feeder does not feed at programed times. manual feed works and clock works. but it won't feed on schedule. is there a setting that i am missing.
Answer:
In my experience and use, this product works on military time, example, my setup is on 4hour schedule. The display shows the
# 1-07 #2 11 hundred hrs, #3 1500 hrs
# 4-1900 hundred hours. It is constance with the pre-set program. I hope this helps.
Robert Brown · August 10, 2021
Question:
how much food is dispensed by cup measurement?
Answer:
Half a cup.
Shoot smart · June 4, 2022