Hygger 8-Gallon Glass Aquarium Fish Tank
7W power 110GPH filter pump
8 gallon LED glass aquarium kit
3 LED light modes
3D rockery background decoration
Extendable and adjustable mounting brackets
Durable and ultra-transparent glass fish tank
18W colored led light with external controller
$131.99

Description
SPECIFICATIONAN & INSTRUCTIONS
Reviews (0)
Description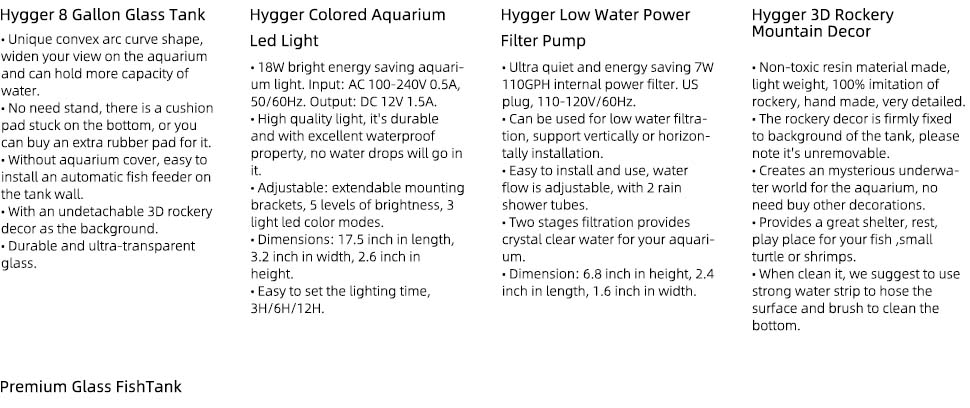 Quick Setup Guide
Step 1: Clean the tank and filter by clean water and towels. Do not use chemicals not intended for aquarium use.
Step 2: Place the tank on a level, sturdy, completely flat surface in your desired location. Keep it away from direct sunlight and air vents.
Step 3: Fill the tank with room temperature tap water treated with aquarium conditioner to remove chlorine.
Step 4: Rinse the power filter cartridge and assemble it, then fit the power filter into the preformed hole with the suction cups.
Step 5: Position the extendable LED light to the top of the tank properly.
Step 6: Plug in the LED light and power filter, and turn the power on.
Note: If you need to add gravel or separate decorations to your aquarium, please add them before adding water to avoid over-filling.
 Tips to Keep a Successful Aquarium
1. Keep the LED light on for a maximum of 8 hours per day.
2. Change 25% of the water once a week.
3. Keep a proper water level in order to keep the power filter working.
 Product Parameters
Fish Tank
Model
Tank Materila
3D Background Material
Dimension
Tank Volume
Max Water Volume
HG-906
Glass
Resin
19" L x 11.8" W x 9.6" H
(The upper width is 8.7")
8 Gallons
6 Gallons
LED Light
| | | | |
| --- | --- | --- | --- |
| Power | Input | Output Voltage | Extendable Brackets Length |
| 18 W | AC 100-240 V, 50-60 Hz | DC 12 V | 0-19 inches |
Internal Filter
| | | | | | |
| --- | --- | --- | --- | --- | --- |
| Power | Voltage | Max Flow Rate | Dimension (L x W x H) | Lowest Water Line | Cable Length |
| 7 W | 110-120 V, 60 Hz | 110 GPH | 2.4 x 1.6 x 6.8 (inch) | 2.5 inches | 4.3 Feet |
 Packing List
Aquarium Glass Tank with 3D Background x1
Extendable LED Light with Controller x1
Internal Power Filter x1
User Manual x1
 Usre Manual