Hygger 999 24/7 Mode Auto On Off LED Aquarium Light
Unique hybrid lighting blend and 24/7 mode
Premium 5050 RGB LED bulbs
Full-spectrum Flicker-free LED light
Adjustable timer
Extendable brackets
Highly efficient and energy saving
Suitable for plants and freshwater aquariums
$27.99 – $69.99

Description
SPECIFICATIONAN & INSTRUCTIONS
FAQs
Reviews (0)
Description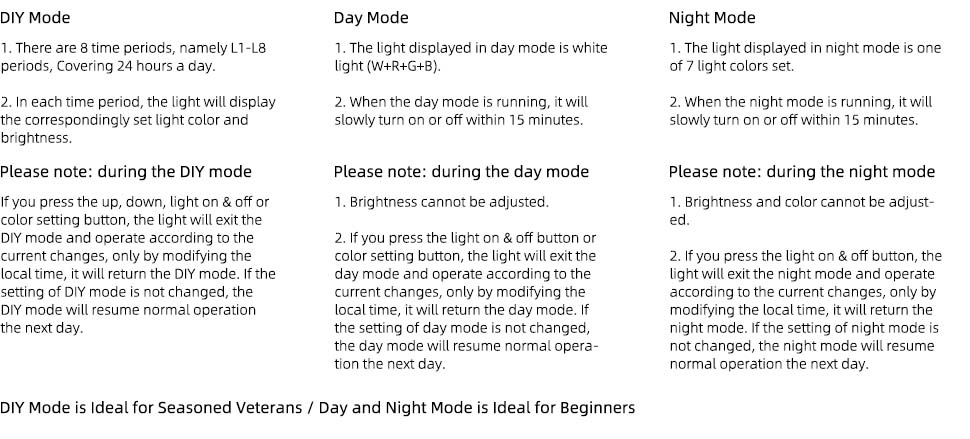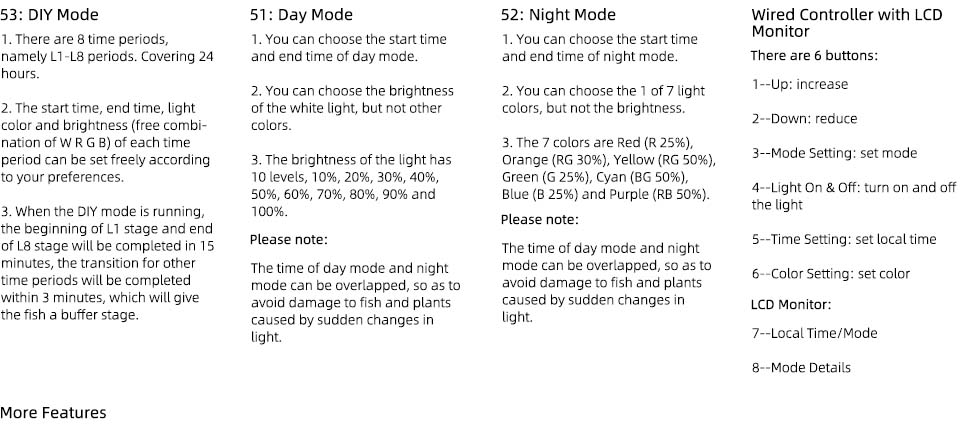 Warnings

1. Carefully examine the appliance after installation. Do not operate it if it has a damaged cord or plug, if it is malfunctioning, or it is dropped or damaged in any manner. The power cord of this appliance cannot be replaced. If the cord is damaged, the appliance should be discarded. Never cut the cord!
2. To avoid the possibility of an electrical hazard, aquariums should be placed to one side of a wall mounted outlet to prevent water from dripping onto the outlet or plug.
A drip loop should be arranged for the cord connecting light to a power outlet. The drip loop is the part of the cord below the level of the outlet, or the connector if an extension cord is used, to prevent water travelling along the cord and coming in contact with the power outlet.
If the plug or outlet gets wet, do not unplug the cord. Disconnect the fuse or circuit breaker that supplies power to the light. Then, unplug and examine for presence of water in outlet.
3. This appliance is not intended for use by persons (including children) with significantly impaired physical or mental capabilities, unless they have been given supervision or instruction.
Product Parameters
Model
HG-999
POWER
14W
18W
22W
26W
36W
42W
LIGHT SIZE
12in
18in
24in
30in
36in
48in
APPLICATION
12-18in
18-24in
24-30in
30-36in
36-42in
48-54in
LED QUANTITY
58PCS
98PCS
113PCS
130PCS
153PCS
215PCS
COLOR TEMPERATURE
6500K
6500K
6500K
6500K
6500K
6500K
LUMINOUS FLUX
820Lumens
1120Lumens
1480Lumens
1720Lumens
1980Lumens
2160Lumens
INPUT VOTAGE
AC100-240V
AC100-240V
AC100-240V
AC100-240V
AC100-240V
AC100-240V
OUTPUT VOTAGE
DC20V/0.6A
DC20V/1.2A
DC20V/1.2A
DC20V/2A
DC20V/2A
DC20V/2A
POWER CORD
4.9ft+2.3ft
4.9ft+2.3ft
4.9ft+2.3ft
4.9ft+2.3ft
4.9ft+2.3ft
4.9ft+2.3ft
MATERIAL
aluminum alloy
aluminum alloy
aluminum alloy
aluminum alloy
aluminum alloy
aluminum alloy
Packing List
LED Light x1
Switch box x1
Metal brackets x2
User Manual x1
Question:
Does this model have all the same program functionality as the Hygger light with the screen on top of the light bar itself?
Answer:
Not sure, but it has a easy fun timer, which is what I needed to prevent Algae. Good Luck.
By MEL · February 20, 2022
Question:
Does this light remember the settings if the power goes out?
Answer:
Yes it does but clock needs to be reset.
By Frank B. · November 18, 2021
Question:
Light settings rely on an internal battery to keep them in memory? If yes, what happens when the battery runs out?
Answer:
Replace the battery and reset.
By Lester F Lucas · May 12, 2022