Hygger 990 Clip On 24/7 Aquarium Light
DIY mode: full spectrum aquarium light also can change the time + brightness
Clip style bracket, easy to install
High-quality light
Suitable for aquariums sized from 12 inches to 20 inches long
$29.99
Out of stock

Description
SPECIFICATIONAN & INSTRUCTIONS
FAQs
Reviews (0)
Description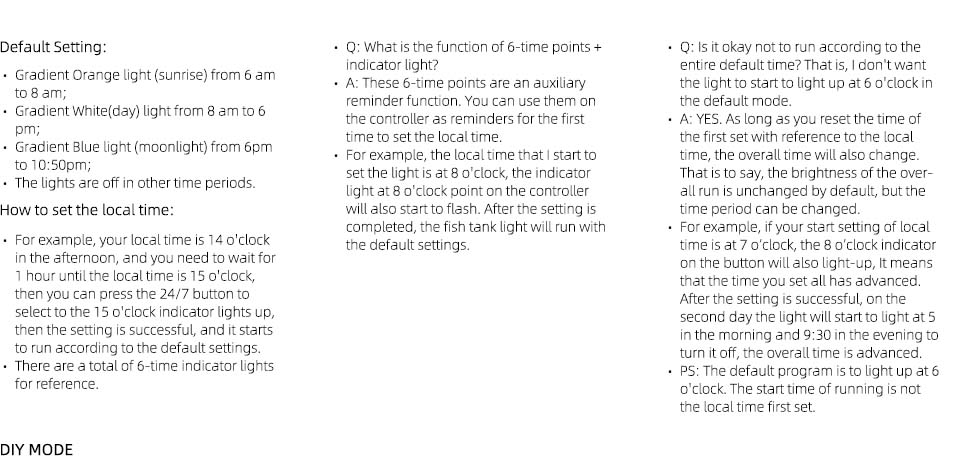 Product Parameters
| | | | | | | | |
| --- | --- | --- | --- | --- | --- | --- | --- |
| Model | Applicable Fish Tank Size | Power | LED Quantity | Input Voltage | Output Voltage | Frequency | DC Cable Length |
| Model | 12-20 Inches long | 14 W | 68 Pieces | AC 100-240 V | DC 20 V | 50-60 Hz | 7.5 Feet |
 Packing List
Aquarium LED LightClip Holder x1
Power Adapter x1
User Manual x1
 Usre Manual
Question:When connected to an external timer, will it turn back on to the last setting or default to the brightest setting like my other Hygger?
Answer:  Other settings remain the same, only the time is changed. After the power is off, whether it is in the normal mode or the DIY mode, the default light will start to run at 6 o'clock in the morning every day (but the actual local time may not be 6 o'clock).
So it is recommended that you do not use an external timer, the light will automatically turn off, your settings will not change, and it will automatically turn on.
By Jnkany SELLER on July 10, 2021
Question:is it dimmable without the 24 hour mode? I don't want that mode
Answer:  Yeah, there's a button that controls brightness. Can dim from 100% down to 10% if needed. Dims in 25% intervals.
By N on December 15, 2021
Question:Can the light be attached to the clip horizontally(long edge) or only vertically(short edge)?
Answer:  It can be attached on one short edge and one long edge.
By Jonathan on April 20, 2022
Question:What are the dimensions of the light itself? I have a 5 gallon marineland aquarium that is approx 9x 9".
Answer:  It would fit perfectly but I'm pretty sure this is for a rimless tank.
By Shannon on March 5, 2022