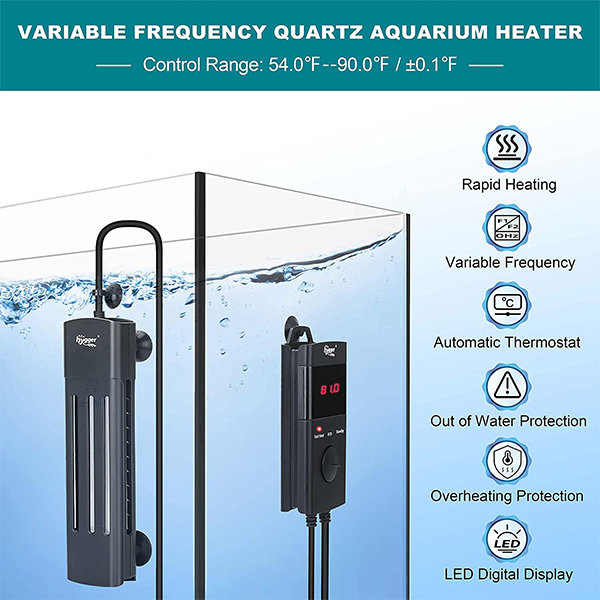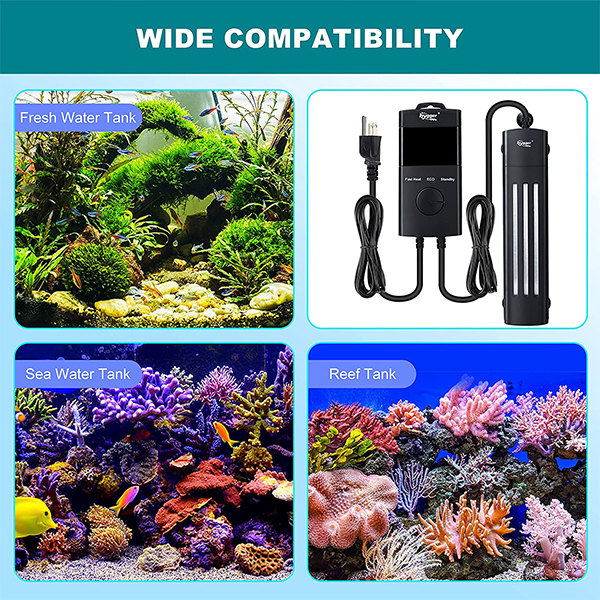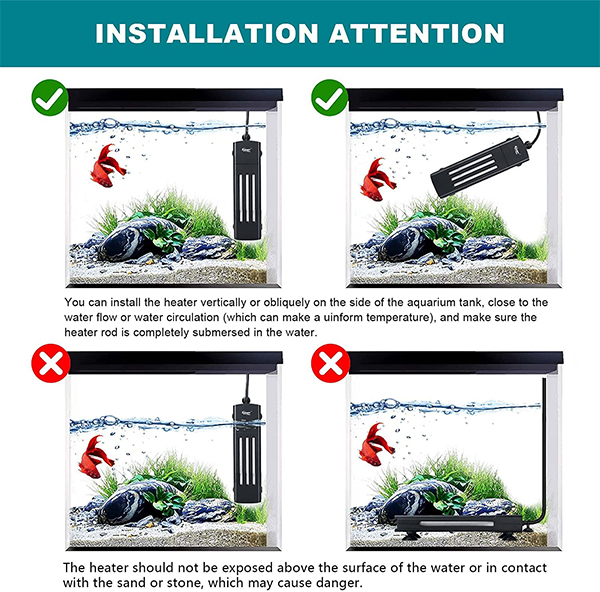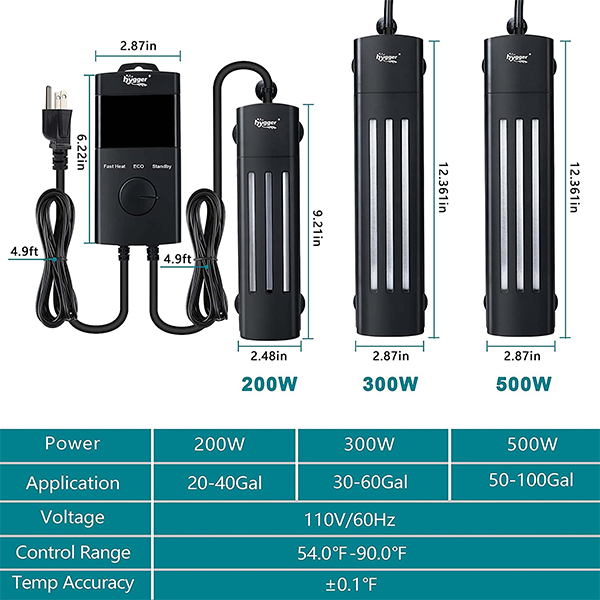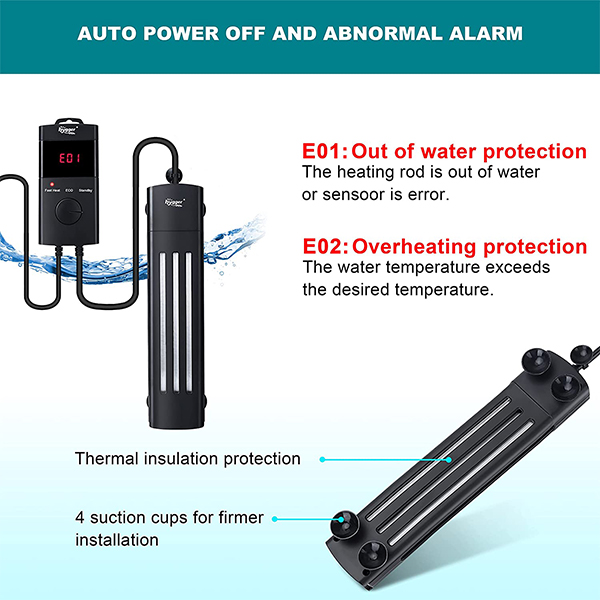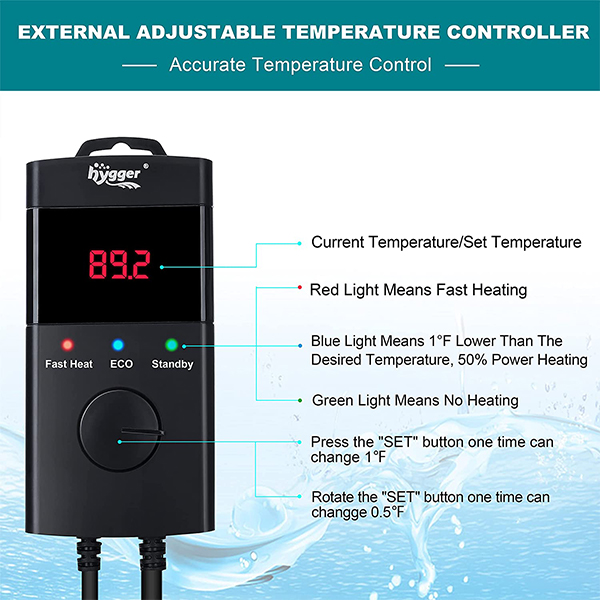 Hygger 003 Variable Frequency  Aquarium Heater
Rapid heating
Dual temp sensing probe
Overheating protection
Accurate temperature control
Variable frequency energy saving
LED digital displayed
Wide compatibility
$42.99 – $62.99

Description
SPECIFICATIONAN & INSTRUCTIONS
FAQs
Reviews (0)
Description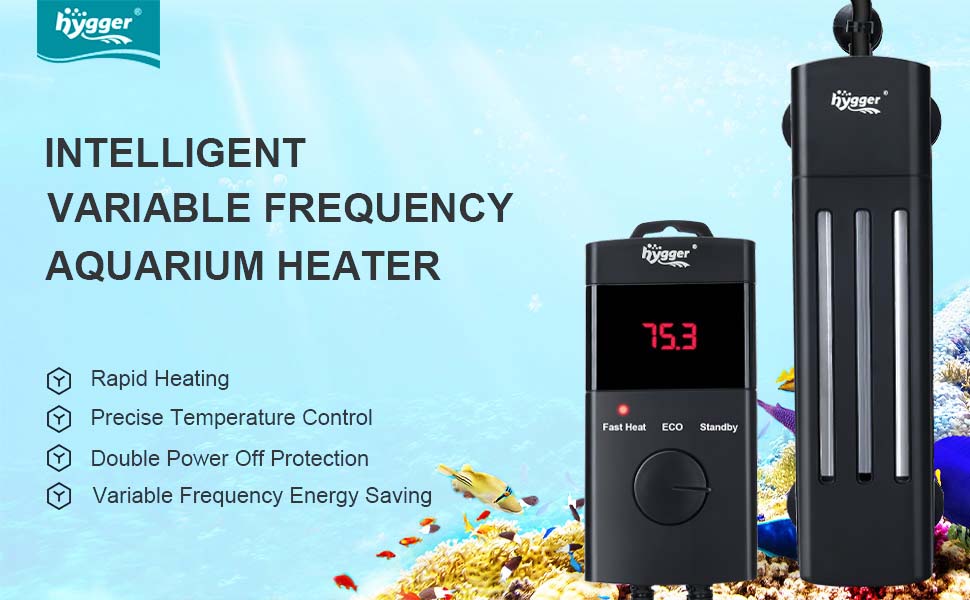 Warnings and Warm Tips

1. Always keep the heater rod fully submersible to avoid heater damage and accidental burns.
2. Unplug the heater for 15 minutes or so before water change or cleaning the fish tank. Otherwise, it would melt the case.
3. When the display shows error "E3", long press control ball and plugs in together .then can rotate the control ball to set the same temperature with the fish tank.
4. Regularly clean the heating plate. If the heating plate is attached with impurities, the heating efficiency will be reduced.
Product Parameters
Model
HG-003-200W
HG-003-300W
HG-003-500W
Power
200W
300W
9.21x2.48x1.34inch
Application
20-40Gal / 90-180L
30-60Gal / 135~270L
50-100Gal / 225-450L
Voltage
110 V / 60 Hz, 220V-240V /50Hz
Control Range
4.9ft+4.9ft/1.5M +1.5M
Temp Accuracy
±0.1°F
Temp Accuracy
9.21x2.48x1,34inch
9.21x2.48x1.34inch
12.36x2.87x1.5inch
Temp Accuracy
6.22x2.87x1.18inch
Packing List
Double quartz heater with LED digital controller x1
Suction cup x4
Magic sticker x1
User manual x1
Question:
Does it come with a hook to hang the temperature controller? I got a piece of velcro in the box. A couple images showed it hanging on a suction cup.
Answer:
It does not come with a "hook". We added our own suction cup.
By Suzanne K on January 15, 2022
Question:
Can the cord be submerged in the tank? No. Don't put the display into the water.
Answer:
No. Don't put the display into the water.
By Trish Farrington on January 23, 2022
Question:
How to take it off stand by so it starts heating.
Answer:
Make sure the Heating rod is totally under water they will shutdown if they are not all the way under the water and if not place turn sideways once it's under water it will restart by itself.
By Chad S. on March 14, 2022